National Chemistry Week Project Leaders
Ping Furlan, PhD
Department of Mathematics and Science
United States Merchant Marine Academy
300 Steamboat Road
Kings Point, NY 11024
(516) 726-5783
Email
Scott Lefurgy, PhD
Department of Chemistry
Hofstra University
Room W-332
Hempstead, NY 11549
(212)346-1760
Email
Erin Wasserman, PhD
Email
---
Interested in becoming a member of the ACS?
Click here.
---
American Chemical Society
New York Section, Inc.
Department of Chemistry
St. John's University
8000 Utopia Parkway
Jamaica, NY 11439
Phone 516-883-7510
Fax 516-883-4003

Office Administrator
Webmaster


NATIONAL CHEMISTRY WEEK 2016
October 16 - 22, 2016
---
"Solving Mysteries through Chemistry"

---
National Chemistry Week Event at the New York Hall of Science
---
The New York Section of the American Chemical Society will celebrate National Chemistry Week on Sunday October 30, 2016 at the New York Hall of Science in Flushing, Queens from 11:00am to 4:00pm. The event will showcase chemistry principles using demonstrations performed by local college students and volunteers from local industries for children of all ages. If you or your organization is interested in participating in or sponsoring an activity table at this STEM outreach event, please contact Dr. Ping Furlan or Dr. Scott Lefurgy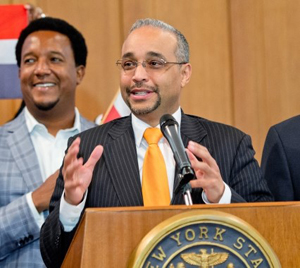 (Photo Source: NY State Senate)


Meet our esteemed guest, New York Senator Jose Peralta, as he celebrates the National Chemistry Week (NCW) 2016 with us! Senator Peralta will attend our NCW Chemistry Hands-on Event on Sunday, October 30, 2016 from 1:30 pm to 2:30 pm at New York Hall of Science.
---
National Chemistry Week National Illustrated Poem Contest
---
Download Poem Competition Flyer (PDF)
Download Poem Competition Entry Form(.doc)
The New York Local Section of the American Chemical Society (ACS) will also sponsor an illustrated poem contest for students in Kindergarten - 12th grade. Winners of the New York City Section illustrated poem contest will be advanced to the ACS National Illustrated Poem Contest! Please contact Erin Wasserman for further information.

Registration is open !

Please Note:

The registration deadline is October 7, 2016.
There is a cost of $20 per table for demonstrations to help subsidize the event.
Please make checks payable to: ACS - NY SECTION.
Checks are to be sent to: Prof. Ping Furlan
Department of Mathematics and Science
United States Merchant Marine Academy
300 Steamboat Road
Kings Point, NY 11024
All presenters must wear goggles, so please bring enough goggles.
All demos that involve any type of liquid (including water) needs to have a plastic table cloth or tarp under their table(s) to prevent carpet damage to the NYSCI. You are responsible to bring your own plastic cloth/tarp.
Painters tape can be used on the walls of the NYSCI to display banners/signs.
YOU ARE RESPONSIBLE TO BRING YOUR OWN TABLE COVERING (PLASTIC TYPE IS FINE), PAPER TOWELS AND ELECTRICAL EXTENSION CORD(S).
---
Pictures from the National Chemistry Week 2014
Participating Universities, Schools, Companies