Topical Groups & Committees:
Sub-Sections
New York Section
National ACS
Support Your Local Section
---
Interested in becoming a member of the ACS?
Click here.
---
American Chemical Society
New York Section, Inc.
Department of Chemistry
St. John's University
8000 Utopia Parkway
Jamaica, NY 11439
Phone 516-883-7510
Fax 516-883-4003

Office Administrator
Webmaster


William H. Nichols Distinguished Symposium,
Medal Award Presentation & Dinner
March 4, 2016
SYMPOSIUM
"THE DEVELOPMENT AND APPLICATIONS OF MODERN METHODS IN ORGANIC SYNTHESIS "
Honoring
2016 Nichols Medalist
Professor Stephen L . Buchwald
Professor of Chemistry
Massachusetts Institute of Technology
1:00 p.m. Welcome
Professor Alison G. Hyslop, 2016 Chair, ACS New York Section, St. John's University
1:05 p.m. Opening of the Distinguished Symposium
Professor Brian R. Gibney, 2016 Chair-Elect, ACS New York Section, Brooklyn College and the Graduate Center - CUNY
1:15 p.m. Multistep Continuous Flow Synthesis
Professor Timothy F. Jamison, Massachusetts Institute of Technology

Flow chemistry has the potential to revolutionize the synthesis of organic molecules - operationally and conceptually. Flow systems can reduce reaction times, increase efficiency, and obviate problems often encountered in scaling up. In addition to these important practical advantages, flow chemistry expands the "toolbox" of organic reactions available to scientists engaged in the synthesis of molecules – from small-scale experiments to large-scale production. These benefits are a direct result of several features of flow synthesis that batch synthesis typically cannot achieve, for example, the ability to control fluid flow precisely, the access to temperature and pressure regimes not usually considered to be practical, and the enhanced safety characteristics of flow chemical systems. In this lecture we will discuss some of our investigations in this area in the form of case studies, wherein a specific target or family of organic molecules has served as an inspiration for the development of new methods of organic synthesis in flow.
2:10 p.m. The Functionalization of C-H Bonds
Professor M. Christina White University of Illinois Urbana-Champaign

Among the frontier challenges in chemistry in the 21st century are the interconnected goals of increasing control of chemical reactivity while synthesizing and diversifying complex molecules with higher efficiency. Traditional organic methods for installing oxidized functionality rely heavily on reactions that require extensive functional group manipulations (FGMs). In contrast, nature routinely uses allylic and aliphatic C-H oxidation methods, generally mediated by heme and non-heme iron monooxygenase enzymes, to directly install oxidized functionality into the preformed hydrocarbon framework of complex molecules. Due to their ubiquity in complex molecules and inertness to most organic transformations, C-H bonds have typically been ignored in the context of methods development for total synthesis. The exceptions to this rely on substrate directing groups to facilitate site-selectivity and reactivity. The discovery and development of highly selective oxidation methods for the direct installation of oxygen, nitrogen and carbon into allylic and aliphatic C-H bonds of complex molecules and their intermediates are discussed. Unlike Nature which uses elaborate shape or functional group recognition active sites, this chemistry harnesses the subtle electronic, steric, and stereoelectronic interactions between C-H bonds and small molecule transition metal complexes to achieve high regio-, chemo-, stereo- and site-selectivities with high substrate generality- and without the requirement for directing groups. Our current understanding of these interactions gained through empirical and mechanistic studies will be discussed. A user-friendly catalyst reactivity model that calculates and even predicts the major site of oxidation as well as the magnitude and direction of the site-selectivity in complex substrates as a function of catalyst will be delineated. Novel strategies for streamlining the process of complex molecule synthesis and diversification enabled by these methods will be presented.
3:00 p.m. Coffee Break
3:30 p.m. Drug Discovery Innovation: The Evloving Role of Medicinal Chemistry
Doctor Joel C. Barrish

The Pharmaceutical Industry is facing significant challenges: a regulatory environment that has become more restrictive and where the safety bar is higher; substantial cost increases at the same time that R&D success rates have decreased and identifying highly validated targets has become even more difficult; and a system of payers worldwide trying to reduce costs and demanding more accountability. Medicinal chemists within the Industry have been particularly affected by changes made in response to these challenges. Despite the headwinds, there is reason for optimism - not only because drug therapies will continue to be important for an aging population, but especially given considerable scientific advancements within Drug Discovery. For the medicinal chemist, the ability to rapidly evolve and adapt to new approaches and strategies will be key. This presentation will be a personal view of the key innovations where Chemistry has the opportunity for greatest impact and will also highlight the attributes and capabilities needed by the future medicinal chemist.
4:30 p.m. Palladium-Catalyzed Carbon-Heteroatom Bond-Forming Reactions
Professor Stephen L. Buchwald, Massachusetts Institute of Technology

Nichols Medalist

Cross-coupling methodology is an indispensable part of the everyday repertoire of synthetic organic chemists. Crucial to our success in the development of new and more generally applicable methods has been our discovery and use of monodentate biaryl phosphine ligands. More recently, the invention of precatalysts based on these ligands has further increased their activity and utility. This lecture will detail our progress in formation of carbon-heteroatom bonds. Included will be: 1) An introduction to palladium-catalyzed carbon-heteroatom bond-forming reactions; 2) A description of ligand and catalyst development employing involving biarylphosphines. 3) Applications of these catalysts to the functionalization of heterocycles and the preparation of compounds of interest to medicinal chemists. 4) Application of these catalysts in PET imaging. 5) Applications of these catalysts to problems in bioconjugation. This section will describe our work on the functionalization of peptides, proteins and antibodies as well as the preparation of stapled peptides.
5:45 p.m. Social Hour
6:45 p.m. William H. Nichols Medal Award Dinner
Professor David W.C. MacMillan of Princeton University
will introduce the 2016 Medalist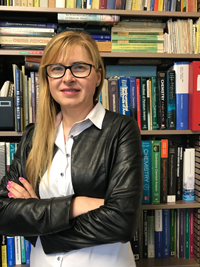 Message from 2019 Chair
Dr. Justyna Widera-Kalinowska

2019 Board Meeting Dates
---


http://TheIndicator.org

Archive of Back Issues

---



---
Reminder - Please Pay Your New York Local Section Voluntary Dues!
When your ACS membership renewal notice arrives this time, please be sure to renew but also don't forget to check the box for payment of New York Local Section Dues. While Local Section dues are a voluntary contribution - they are not required to maintain Section membership - they are however, critically important to the well being of the New York Section.
Your $15.00 Voluntary Dues directly fund events and services, including the prestigious annual Nichols Medal Symposium, undergraduate research symposia, topical groups, subgroups, and other excellent programs. With your financial commitment, these important programs can continue to grow and benefit all our members.
Thank you - the New York Section really appreciates your help!
---
Employers Seeking Talented Employees
The Employment and Professional Relations Committee maintains a roster of candidates who are ACS members seeking a position in the New York metropolitan area. If you have job openings and would like qualified candidates to contact you, please send a brief job description and educational/experience background required to Hessy Taft. Candidates from our roster who meet the requirements you describe will be asked to contact you.
---
SPEAKERS WANTED
Do you like to talk?
Then we need to hear from you!
The New York Section of the ACS is looking to increase and update its Speakers Bureau database of interested local area speakers who are available for Section-wide seminars and symposia. If you have an area of research or interest that would provide an interesting talk appropriate for our Section members, and would like to be included in our Speakers Bureau, then please contact the New York Section Office (516-883-7510, Email) with the following information that will be posted on the Section's website: your name, affiliation, a title, and 5-6 words briefly summarizing your area of specialty. We look forward to hearing from you about topics that you wish to share with our other members!