THE 50th and 60th YEAR ACS MEMBER LUNCHEON IN MANHATTAN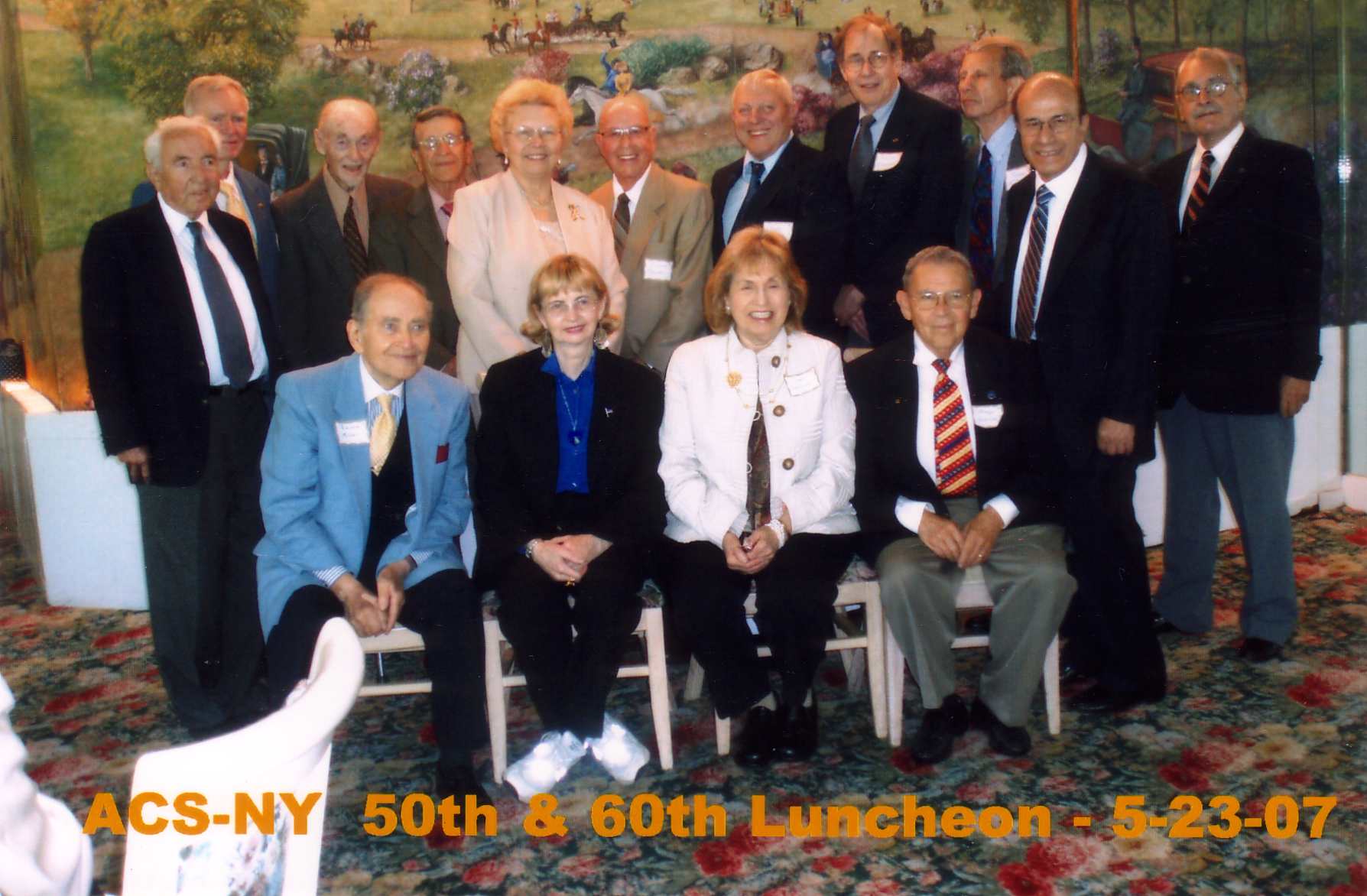 On May 23, 2007, the New York Section celebrated the 50 and 60 year members of the American Chemical Society. The surprise for the Section was the addition of 60 year members - which was not accounted for as a budget item.
Considering the longevity of these members, the New York Section planned a very elegant affair.
Prior to 2007, we generally had three to four of the fifty year members responding to the invitation. A thought was that transportation was a problem. We needed a location that was convenient for public transportation and had a
parking facility, with reasonable prices.
A call was made to Tavern On The Green Restaurant in Central Park at West 67th Street. This was an ideal location; it was convenient to public transportation and a parking area adjacent to the restaurant. Now to bargain to a price that we could afford. A guarantee of 30 people allowed for a private dining room with a cash bar and our own Maitre Dí, we settled at $50. Since we are tax exempt, the additional cost was the Service Charge. Since the minimum was 30, the question facing us - would we have 30 responses.
The room was ours from 12 pm to 4 pm, in the Park/Park Patio Dining Room with tables of ten. The room rental was waived.
The Menu for the Day: Appetizer of Chilled Spears of Asparagus wrapped with Smoked Salmon; Entrée of Roasted French Cut Chicken Stuffed with Baby Spinach and served with the Chefís selection of Fresh Seasonal Vegetables and Dessert was Florentine Cornucopia with diced Fresh Fruit, Raspberry Sorbet and Passion Fruit Sauce followed by Coffee or Tea. Beverages were set up for service during lunch with assorted juices, sodas and mineral waters.
We were so pleasantly surprised as responses came in. In most cases, the member came with his/her spouse. We reached our quota of 30 people. In the letter that was sent out to all, we requested a brief bio to bring us up-to-date. At dessert time, the 2007 chair, Joan Laredo-Liddell read the information received and presented the ACS Certificate. Each member had a tale to tell, as many knew each other. The affair was as pleasant as the day. Some members decided that a carriage ride in Central Park would put the finishing touch for the day.
We had six 60 year members and eight 50 year members. I sent each attendee a 4x6 group picture and a 5x7 picture of their year. The word spread and we had some complaints by the over 60 year members that they were not invited. The Section has some thoughts for the 2008 luncheon.