TWO NICHOLS AWARDS
1. WILLIAM H. NICHOLS MEDAL DISTINGUISHED SYPOSIUM AND AWARD DINNER

Joan Laredo-Liddell Presenting Dr. Nicholas Turro with the Nichols Medal with Mr. David Nichols Applauding.
In an event that is not only a premier annual section event, but one that is a very important event nationally, the 2007 Nichols Medal Symposium and Banquet was held on Friday, March 16, 2007 at the Crowne Plaza Hotel in White Plains, NY. The recipient of the Nichols Medal was Professor Nicholas J. Turro of Columbia University. Nicholas Turro is an internationally acclaimed pioneer and leader in the art and practice of physical organic chemistry and organic photochemistry.
The title of the symposium was "Photon, Electrons, Spins and Supramolecular Chemistry: New Tool for Unraveling Chemical Complexity". The distinguished symposium speakers were: Professor Jacqueline K. Barton, Arthur and Marian Hanisch Memorial Professor of Chemistry at the California Institute of Technology, "DNA Charge Transport Chemistry and Biology"; Professor Ronald E. Breslow, S. L. Mitchill Professor of Chemistry at Columbia University, "Terrestrial and Extraterrestrial Chiralitiy"; Professor Harry B. Gray, Arnold O. Beckman Professor of Chemistry, California Institute of Technology, "Protein Folding, Misfolding, and Disease"; and Professor Nicholas J. Turro, William P. Schweitzer Professor of Chemistry at Columbia University, "Photons, Spins and Special Pairs: An Integration of Photochemistry, Magnetic Resonance and Supramolecular Chemistry".
The evening portion included ACS greetings by Dr. Catherine T. Hunt, 2007 President of ACS, the introductory address by Professor Gerard Parkin of Columbia University, presentation of the Nichols Medal by Joan Laredo-Liddell, 2007 Chair of ACS-NY and the Acceptance Address by Professor Nicholas J. Turro, Nichols Medalist. Program Booklet (Listing Past Medalists and Past NY Section Chairs)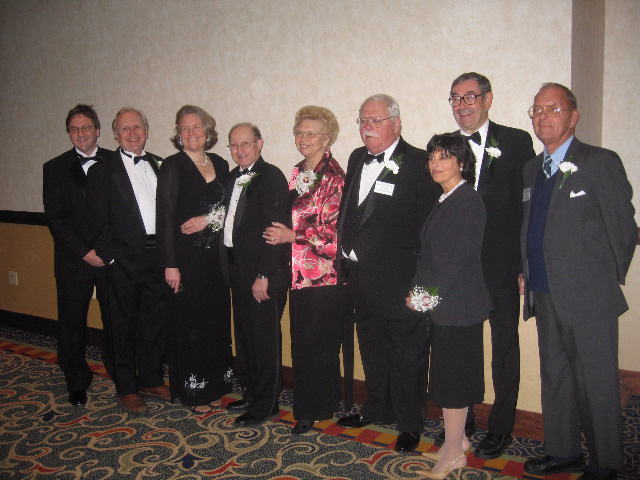 Dr. Ged Parkin, Dr. Ronald Breslow, Dr. Catherine Hunt, Dr. Nicholas Turro (Medalist), Mrs. Joan Laredo-Liddell, Mr. David Nichols,
Dr. Jacqueline Barton, Dr. Harry Gray and Mr. C. Walter Nichols III
This medal is the nation's oldest award for chemistry. The Nichols Medal was established in 1902 by Dr. William H. Nichols (ACS president in 1918 and 1919), and the New York Section was honored that Mr. David Nichols, Mr. C. Walter Nichols III and Mrs. Helga Nichols, members of the Nichols Foundation and Family, were guests at the banquet. The Nichols banquet is an excellent opportunity for chemistry students to interact with industrial chemists, learn about cutting-edge research, and participate in recognizing achievements in original research. Donations from the Nichols family and Foundation and local industry are used to bring the students to this event. The Nichols Medal awardee is selected from many excellent nominations at an annual June meeting of the Nichols Medal Jury. The recognition of this award by the area chemists is reflected in the large number of attendees, in the midst of a blizzard.




2. NICHOLS FOUNDATION HIGH SCHOOL CHEMISTRY TEACHER AWARD
The NY Section is also the beneficiary of the Nichols Foundation High School Chemistry Teacher Award. The 2007 awardee was Stephen Radice of Edward R. Murrow High School in Brooklyn, NY. He was chosen from the candidates on the basis of his teaching load, unique and challenging teaching techniques, demonstrations, and having his students work at local university laboratories. The 2007 award was presented at the January 2008 Sectionwide Conference. The NY Section is proud of its previous HS awardees. Our 2006 winner, Sara McCoy, received the American Chemical Society Division of Chemical Education Middle Atlantic Region Award for Excellence in High School Teaching at MARM 2007 at Ursinus College and our 2004 winner, Richard Goodman, will receive the 2007 ACS James Bryant Conant Award in High School Chemistry Teaching. He will be honored at the ACS National Meeting in New Orleans. Radice Biography
Mrs. Jean Delfiner, Mrs. Radice, Mr. Stephen Radice, Mrs. Joan Laredo-Liddel and Dr. Marc Walters