NATIONAL CHEMISTRY WEEK

at the

NEW YORK HALL OF SCIENCE (4TH YEAR)

Coordinated by David Sherman of Pepsico




The New York Section held its annual National Chemistry Week (NCW) event at the New York Hall of Science in Flushing, NY (Queens county). The event was organized with tremendous energy, organization, and enthusiasm by David Sherman, Principal Research Specialist of PepsiCo. The theme in 2008 was "Chemistry is a Ball; The Science of Sports". The event was a carnival of demonstrations that were visual, tactile, and for the first time in 2008, even gustatory with one group presenting kitchen chemistry! Last year marked the fourth year that the section wide celebration was held at the New York Hall of Science which is a spectacular venue by virtue of its amazing architecture, and the abundance of science and engineering on display in the surrounding exhibition spaces.


The event has grown tremendously both in size and scope with sufficient depth to stimulate the curiosity of children and adults, or students and professionals.

* 286 volunteers - up from 210 volunteers in 2007, 36% increase!! A 225% INCREASE FROM 2005!!
* Our volunteers performed 40 demos - up from 26 in 2007, a 54% increase!! A 100% INCREASE FROM 2005!!
* 20 colleges/univ. and private companies/corp. participated - up from 13 in 2007, a 54% increase!! A 100% INCREASE FROM 2005!!
* Over 1200 people attended in 2008. A 140% INCREASE FROM 2005!!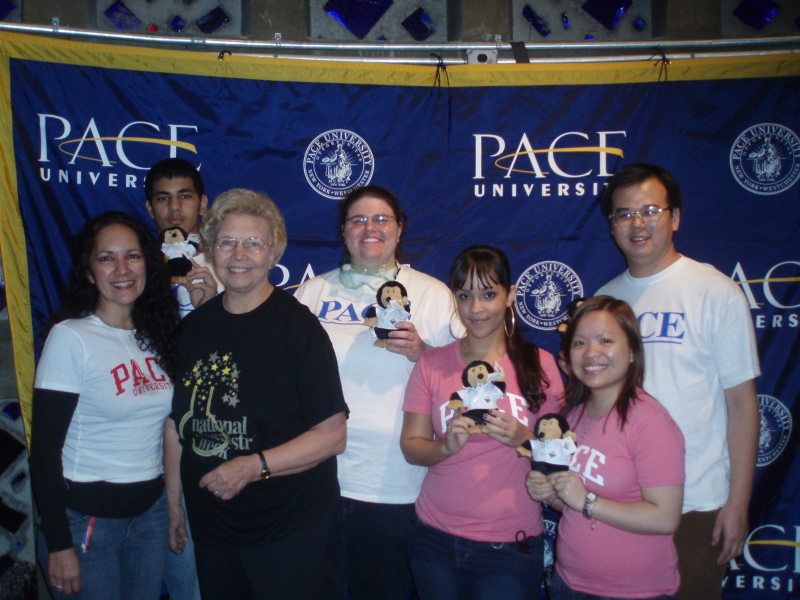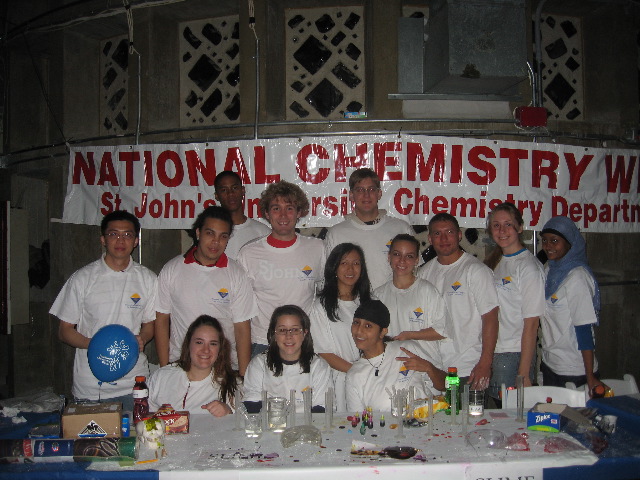 The demos are designed and staffed by ACS volunteers from NY's Colleges, Universities, & Businesses: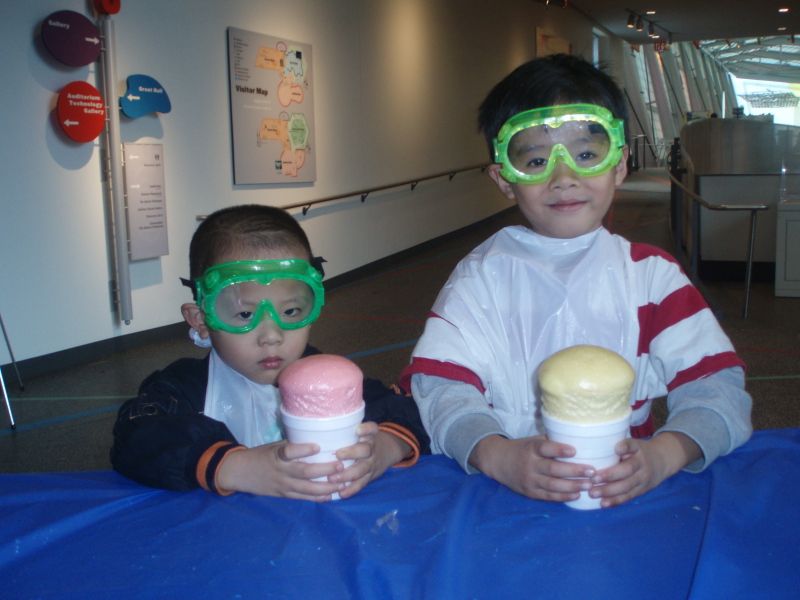 PepsiCo R&D, St. John's University, Hofstra University, New York University (NYU), College of Mount Saint Vincent, Manhattan College, Barnard College of Columbia University, Columbia University, International Flavors and Fragrances (IFF), PACE University, VWR Scientific Catalogue, NY Mets (Mr./Dr. Met!), St. Joseph's College, Adelphi University, Agilent Technologies, Purchase College, SUNY, Experimental Cuisine Collective (ECC). Iona College, Citrus & Allied, Ace Glass, Polytechnic University (NYU). Student affiliate groups from the above colleges played a major role in organizing the event and presenting demonstrations.
Among some of the 40 exhibits were those on The science of making Gatorade, Women in Science, Glow in the Dark Slime, Cool blue light experiment (Chemiluminescence), making a polymer bouncing ball, forensic fingerprinting, hot and cold packs for sports injury, gas chromatography, mango pearls (experimental cuisine), polymer materials for sports balls, and a Gatorade NASCAR demonstration.
***** OTHER NOTABLE HAPPENINGS *****

It was our great honor to host
Dr. Bruce Bursten, President of the ACS
,
who had many kind words to say to our volunteers and the NY Section Officers about the event. He was also quoted as saying in C&EN, "It was a remarkably synergistic mix of academia and industry, using their passion, creativity, and boundless energy to achieve a common goal, namely spreading the message about the centrality and fascination of chemistry."
The Section was also honored to host
Dr. Mehmood Khan, SVP and Chief Science Officer (CSO), from PepsiCo.
His comments regarding the NCW Event were, " It was truly a pleasure attending, watching the excitement with the attendees as well as the students and faculty who had given up their time...What a wonderful opportunity for PepsiCo to show case our scientists.."
Marilyn Hoyt, President and CEO of the New York Hall of Science
noted that "ACS NCW at the New York Hall of Science is a perfect symbiotic relationship between a "world class" professional society and a "world class" science museum."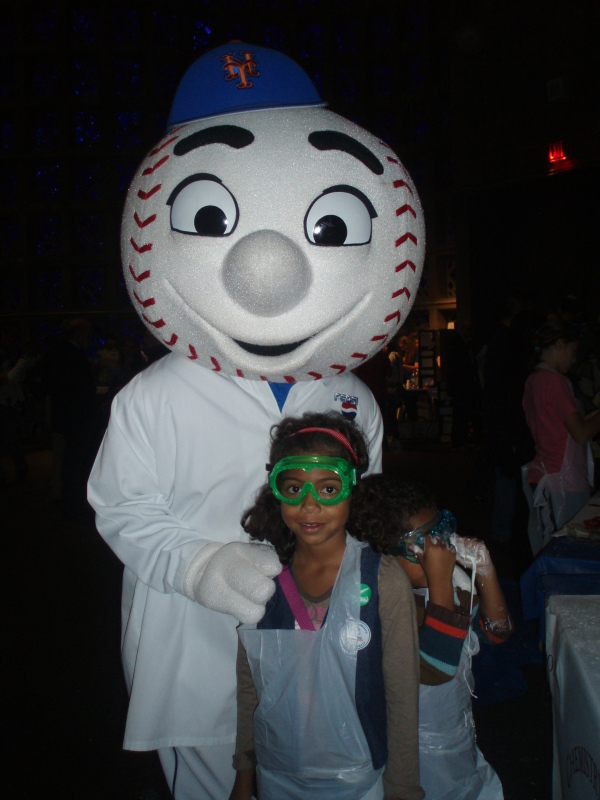 The
NY Mets
(neighbors to the NYHOS; you can see Shea Stadium from the NYHOS windows!) were invited to participate because of the sports theme. They graciously sent their
mascot, Mr. Met (who wore a lab coat to become Dr. Met!!
) to entertain the kids. Light flashes popped at an astonishing rate as both kids AND ADULTS had their photos taken with "Dr. Met."
...........................Another tremendously successful NCW for the NY Section in 2008!
!
............................................
.......................................................................................................................................................................
Organizers with ACS President, Dr. Bruce Bursten
<<<<<<<<< MORE PHOTOS >>>>>>>>
........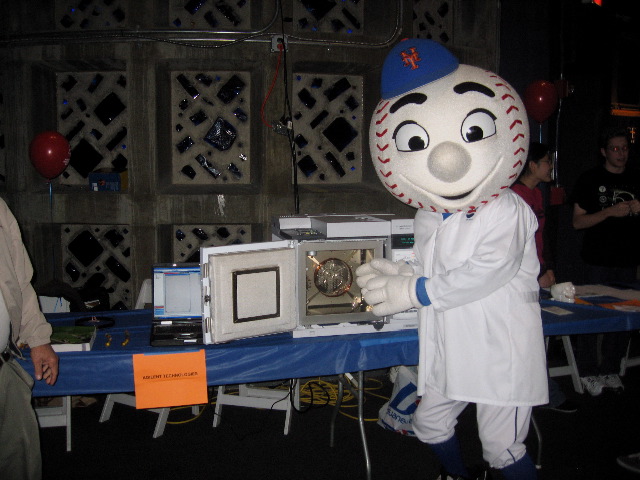 ........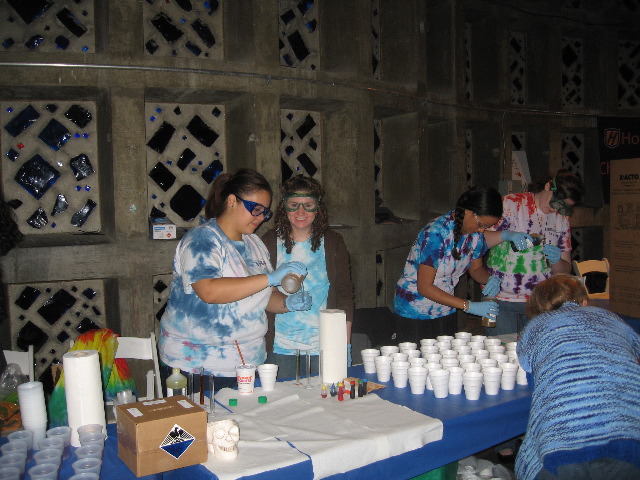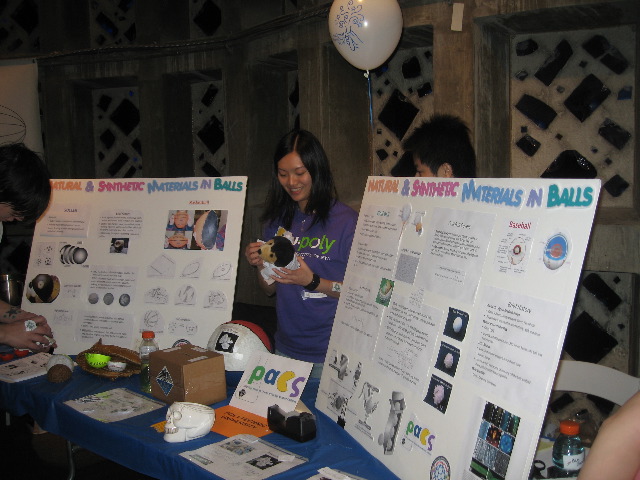 ........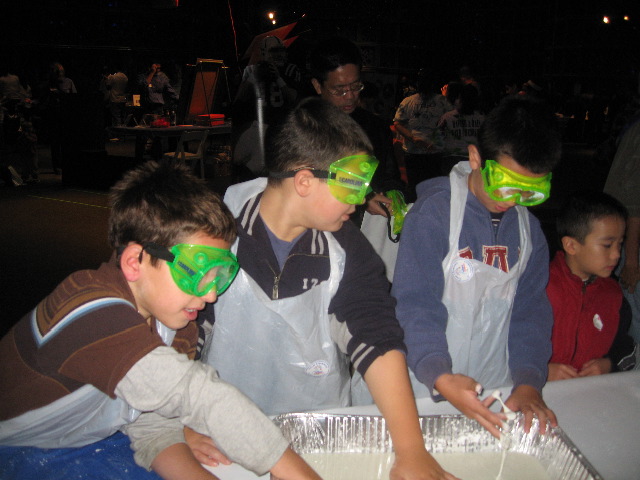 .........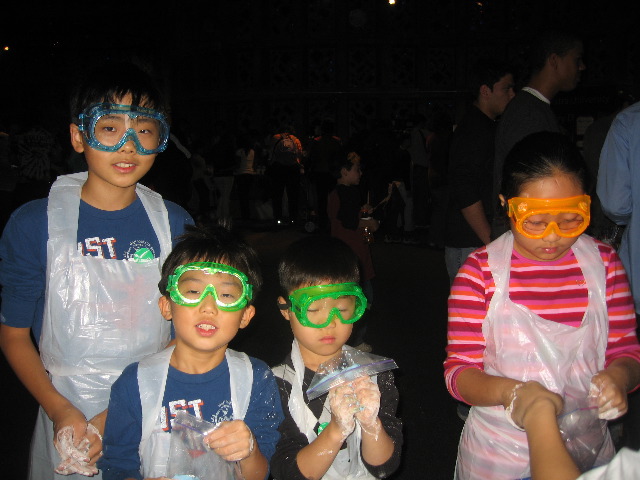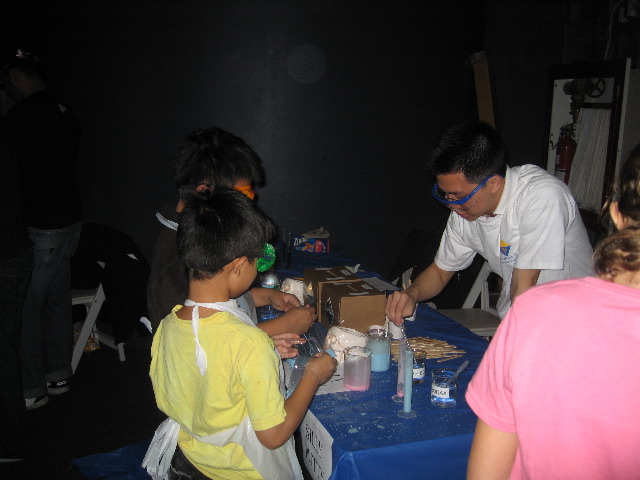 ........