2016 Chair and Co-Chairs

Dr. JaimeLee I. Rizzo
Pace University
Department of Chemistry and Physical Sciences
New York, NY, 10038
Phone: 212-346-1761
Email


---
Interested in becoming a member of the ACS?
Click here.
---
American Chemical Society
New York Section, Inc.
Department of Chemistry
St. John's University
8000 Utopia Parkway
Jamaica, NY 11439
Phone 516-883-7510
Fax 516-883-4003

Office Administrator
Webmaster


CHEMISTS CELEBRATE EARTH DAY (CCED) 2016

---
"The Great Indoors – The Home Ecosystem"
2016 Earth Day Events
---

---
Chemistry Demo Event at the Saddle Rock School's STEAM Fair, held on Saturday, April 2.
In celebration of Earth Day 2016, the cadets of the United States Merchant Marine Academy (USMMA) offered a day filled with fun and earth-focused science experiments and demonstrations.
---
Earth Day Parade over the world-famous Brooklyn Bridge!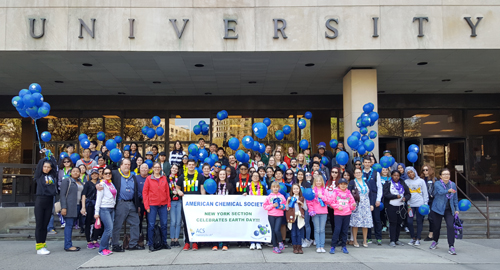 The New York Local Section of the American Chemical Society celebrated Earth Day 2016 with a Parade over the iconic Brooklyn Bridge preceded by a lecture by Prof. Bill Eaton (Pace University). Over 200 participants received Earth Day gifts and snacks, as shown in the slide show below. It was a beautiful, clear, and sunny day on Sunday, April 24th – perfect for students and faculty, members of the New York Section of the ACS, and friends and families to come together to celebrate the 5th Annual Chemists Celebrate Earth Day's "Walk the Brooklyn Bridge" event!

Local colleges and companies represented at the event included Pace University, New York University, Baruch College, Brooklyn College CUNY, Columbia University, Department of Environmental Protection, Kingsborough Community College, Merck, Mineola High School, St. John's University, Saint Peter University, Saint Stanislaus Catholic Academy, The Graduate Center of the City of New York, St. Joseph's College, Hunter College, and NYCT. There were more than 170 people in attendance who gathered at Pace University (the host institution) at 11 am to begin the celebration.

The morning started with a welcome by Dr. JaimeLee Rizzo, Assistant Chair of Chemistry, Pace University, and Coordinator of Chemists Celebrate Earth Day, followed by opening remarks by Dr. Alison Hyslop, St. John's University and Chair of the ACS-NY Section. The Keynote Speaker, Prof. Bill Eaton, Chair of the Department of Biology, Pace University, NYC, delivered an enthusiastic, eye-opening, and informative talk entitled, "Climate change and evidence for its impact in a tropical forest". Each participant was provided with breakfast, snacks, and earth day gifts (recycled Earth Day rubber duckies and reusable, collapsible water bottles, earth day wrist bands, earth day buttons, and a reusable Hawaiian lei). Everyone was given a helium-filled Earth Day balloon to display while we all made our trek across the iconic Brooklyn Bridge. We had an Earth Day Banner which was carried to lead the way for our parade route from Pace University across the bridge. The event was co-sponsored by the Chemistry Club of Pace University, the Chemistry Club of St. John's University, and Saint Joseph's College.

More photos available here