Topical Groups & Committees:
Sub-Sections
New York Section
National ACS
Support Your Local Section
---
Interested in becoming a member of the ACS?
Click here.
---
American Chemical Society
New York Section, Inc.
Department of Chemistry
St. John's University
8000 Utopia Parkway
Jamaica, NY 11439
Phone 516-883-7510
Fax 516-883-4003

Office Administrator
Webmaster


William H. Nichols Distinguished Symposium,
Medal Award Presentation & Dinner
March 24, 2017
SYMPOSIUM
"IMPROVING LIFE THROUGH ADVANCES IN CHEMISTRY AND NANOSCIENCE"
Honoring
2017 Nichols Medalist
Professor Chad A. Mirkin
Professor of Chemistry
Northwestern University
1:00 p.m. Welcome
Professor Brian R. Gibney, 2017 Chair, ACS New York Section, Brooklyn College and the Graduate Center - CUNY
1:05 p.m. Opening of the Distinguished Symposium
Professor Joseph M. Serafin, 2017 Chair-Elect, ACS New York Section, St. John's University
1:15 p.m. Dynamic Droplets: Biosensors from Changes in Orientation and Morphology of Complex Liquids
Professor Timothy M. Swager Massachusetts Institute of Technology

This lecture will focus on the design of systems wherein reconfiguration of complex liquid emulsions (droplets) can be triggered chemically or biochemically. The utility of these methods is to generate new transduction mechanisms by which chemical and biological sensors can be developed. Complex liquid droplets behave as optical lens systems and small changes in surface tensions can change focal lengths or cause systems to switch between optically transmissive or scattering states. Central to this scheme is that the fluids in the droplets have different densities and hence are aligned by the earth's gravity. The induced optical changes can be triggered with chemical, photochemical, or biochemical stimuli and thereby create new generations of sensors. Demonstrations of these methods for the detection of enzyme concentrations and pathogens will be presented.
2:00 p.m. Molecular Imaging of Transition Metal Signaling in the Brain and Beyond
Professor Christopher J. Chang, University of California, Berkeley

Metals are essential for all forms of life, and the traditional view of this bioinorganic chemistry is that mobile fluxes of alkali and alkaline earth metals like sodium, potassium, and calcium are used as dynamic signals and transition metals like copper and iron must be buried and protected as static metabolic cofactors to prevent oxidative stress. We have identified a new paradigm of transition metal signaling, using copper as a primary example to show how such elements can influence neural circuitry and regulate fundamental behaviors such as eating and sleeping.
2:45 p.m. Shape-Shifting Drug Carriers for Targeting Cytotoxins and Immunotherapeutics to Cancer
Professor Nathan C. Gianneschi University of California, San Diego

Nanoparticle targeting strategies have largely relied on the use of surface conjugated ligands designed to bind overexpressed cell-membrane receptors associated with a given cell-type. We envisioned a targeting strategy that would lead to an active accumulation of nanoparticles by virtue of a supramolecular assembly event specific to tumor tissue, occurring in response to a specific signal. For this purpose, we utilize enzymes as stimuli, rather than other recognition events, because they are uniquely capable of propagating a signal via catalytic amplification. We will describe the preparation of highly functionalized polymer scaffolds utilizing ring opening metathesis polymerization, their development as in vivo probes and their utility as a multimodal imaging platform and as drug carriers capable of targeting tissue. Furthermore, we will describe new methods and approaches for characterizing this kind of dynamic material at the nanoscale, including by liquid cell transmission electron microscopy and combined isotopic and optical nanoscopy.
3:30 p.m. Coffee Break
4:00 p.m. Metal-oxos in Chemistry and Biology
Professor Harry B. Gray California Institute of Technology

The dianionic oxo ligand occupies a very special place in coordination chemistry, owing to its ability to stabilize high oxidation states of metals. The ligand field theory of multiple bonding in metal-oxos was published in two papers in the first volume of Inorganic Chemistry. The theory, which accounts for the ground state electronic structures and spectroscopic properties of these complexes, predicts that an "oxo wall" separates Fe-Ru-Os and Co-Rh-Ir in the periodic table. I will review this early work, then discuss the roles metal-oxos play in two of the most important chemical reactions on planet Earth, hydrocarbon oxygenation catalyzed by cytochrome P450, and solar-driven water oxidation catalyzed by photosystem-II.
4:45 p.m. Unlocking the Potential of Spherical Nucleic Acids in Biology and Medicine
Professor Chad A. Mirkin, Northwestern University

Nichols Medalist

A fundamental tenet of nanotechnology is that bulk materials, when miniaturized, exhibit new and interesting chemical and physical properties. These properties often positively impact the development of new technologies, especially in the areas of biology and medicine where frontier advances require rapid changes in how living systems are probed and regulated. Spherical nucleic acids (SNAs), nanostructures typically made by chemically templating short strands of DNA or RNA on the surface of a particle, display extraordinary architecture-dependent properties. Unlike conventional nucleic acids, SNAs can rapidly enter cells without the need for transfection agents, and they can be utilized as novel intracellular probes and efficacious agents for regulating gene expression and immune system response. Consequently, SNAs constitute an entire new class of therapeutics that are being utilized to attack diseases and disorders, including autoimmune diseases and many forms of cancer, at their genetic roots.
5:45 p.m. Social Hour
6:45 p.m. William H. Nichols Medal Award Dinner
Professor Harry B. Gray of the California Institute of Technology will introduce the 2017 Medalist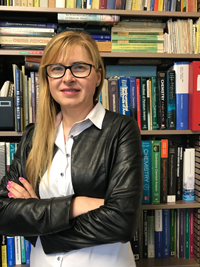 Message from 2019 Chair
Dr. Justyna Widera-Kalinowska

2019 Board Meeting Dates
---


http://TheIndicator.org

Archive of Back Issues

---



---
Reminder - Please Pay Your New York Local Section Voluntary Dues!
When your ACS membership renewal notice arrives this time, please be sure to renew but also don't forget to check the box for payment of New York Local Section Dues. While Local Section dues are a voluntary contribution - they are not required to maintain Section membership - they are however, critically important to the well being of the New York Section.
Your $15.00 Voluntary Dues directly fund events and services, including the prestigious annual Nichols Medal Symposium, undergraduate research symposia, topical groups, subgroups, and other excellent programs. With your financial commitment, these important programs can continue to grow and benefit all our members.
Thank you - the New York Section really appreciates your help!
---
Employers Seeking Talented Employees
The Employment and Professional Relations Committee maintains a roster of candidates who are ACS members seeking a position in the New York metropolitan area. If you have job openings and would like qualified candidates to contact you, please send a brief job description and educational/experience background required to Hessy Taft. Candidates from our roster who meet the requirements you describe will be asked to contact you.
---
SPEAKERS WANTED
Do you like to talk?
Then we need to hear from you!
The New York Section of the ACS is looking to increase and update its Speakers Bureau database of interested local area speakers who are available for Section-wide seminars and symposia. If you have an area of research or interest that would provide an interesting talk appropriate for our Section members, and would like to be included in our Speakers Bureau, then please contact the New York Section Office (516-883-7510, Email) with the following information that will be posted on the Section's website: your name, affiliation, a title, and 5-6 words briefly summarizing your area of specialty. We look forward to hearing from you about topics that you wish to share with our other members!